This article is part of the Digital Freedom and Control Project produced exclusively for the World Policy Journal by students from the Columbia University Graduate School of Journalism.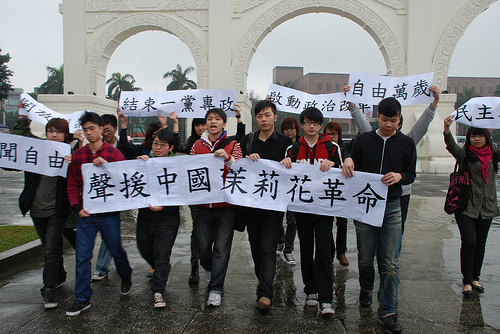 By Julia Pyper and Joe Danielewicz
On February 20, 2011, nine days after Egyptian President Hosni Mubarak stepped down, a record number of Chinese language tweets were posted—227,000 in all. Many of these tweets forwarded the first anonymous call for the citizens in China to protest the government in a "Jasmine Revolution," a name taken from the uprisings in Tunisia.
Within 24 hours, the Chinese government put its sophisticated Internet control programs to work, blocking any references to protests. A small group of dissidents managed to gather for demonstrations in Beijing and Shanghai, but the biggest turnout was from the state itself, which deployed a large police task force to crackdown on the protests.
In late February, as many as 100 activists and several online users were detained on charges of subverting state authority, according to news reports. In the following months, the Chinese police maintained a strong street presence. Western journalists were actively harassed by the state, and online censorship persisted. The protest movement didn't get off the ground, largely because of the Chinese Communist Party's swift and effective retaliation against the online social networking community.
"We don't know who organized the calls for this [Jasmine Revolution]" said Howard French, the former New York Times bureau chief in Shanghai and an associate professor at Columbia Journalism School. "But the Chinese response showed that the Chinese state is deeply concerned about the latest sign of social organization for protest, and obviously sees the Internet as the most powerful tool for communications in that process."
On March 21, Reporters Without Borders wrote that Gmail service had been interrupted and that users could not send e-mails or access Google's homepage. The New York Times reported that VPNs – virtual private networks – has also been disrupted. VPN's can be used to keep Internet activities private, and work around government censorship. The professional networking and job site LinkedIn was reportedly blocked as well.
China watchers note that the government's reaction to the so-called "Jasmine Revolution" is consistent with its persistent use of aggressive tactics to control online activism and organization. Freedom House, a Washington-based think tank, ranked countries in terms of their Internet freedom in a report titled "Freedom on the Net 2011." China ranked 34th out of the 37 countries studied, and the report describes the country as "not free," with numerous obstacles to web access, limits on content, and violations of users rights.
This month, the Chinese government announced the creation of the State Internet Information Office, a new department for Internet regulation. Specialists predict this will further increase the scrutiny of online activity.
*****
Joe Danielewicz is a freelance multimedia producer based in Washington D.C. He's a recent graduate from the Columbia University Graduate School of Journalism.
Julia Pyper has a masters degree from the Columbia University Graduate School of Journalism. She has worked for numerous publications in Canada and is a fellow at ClimateWire in Washington D.C.
Photo courtesy of Flickr user Karl Marx.
Digital Freedom and Control