This article is part of the Digital Freedom and Control Project produced exclusively for the World Policy Journal by students from the Columbia University Graduate School of Journalism.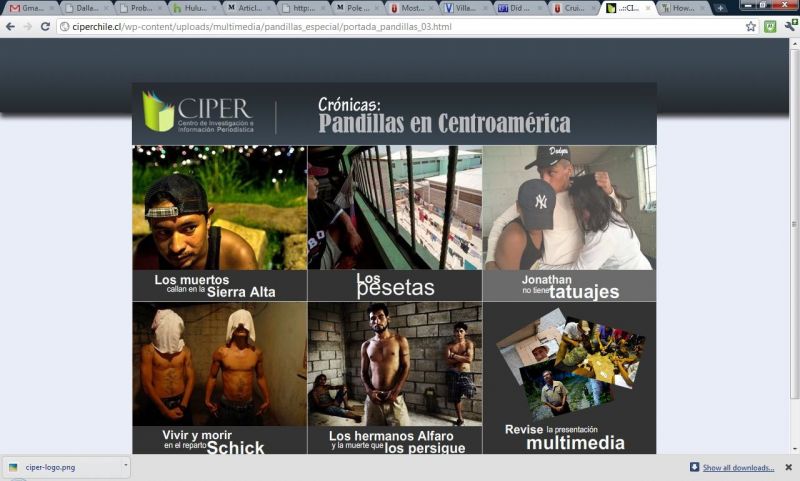 By Anna Merlan
CIPER, an online journalism organization based in Santiago, Chile, is the first investigative reporting center of its kind in Latin America, and one of only a handful in the world. With a staff of just six reporters at its inception, CIPER set out in 2007 to create something wholly new in Chilean journalism—a totally independent investigative project dedicated to exposing corruption and examining other critical issues related to government and public policy.
"To make journalism that was independent, with no political ties—at that time, it was a dream," said Juan Pablo Figueroa, a reporter with CIPER who joined the staff in 2008. The organization received funding from COPESA, a powerful media conglomerate that owns several news organizations, including the major newspaper, La Tercera. During its first two years, CIPER also received grants from international sources, including the Ford Foundation and Open Society Foundation, which were obtained by CIPER's partner organization, the U.S. based nonprofit Center for Investigation and Information (CIINFO).
The site's first major report wasin 2007 on Transantiago, the city's ambitious but problematic public transportation system. The same year, the site won a New Journalism award from the Foundation for New Ibero-American Journalism, founded by Gabriel Garcia Marquez, for a report on the secret library of Chile's former dictator Augusto Pinochet.
CIPER gained widespread attention and credibility in Chile in 2008, when reporter Cristóbal Peña and co-director Monica Gonzalez exposed the irregularities surrounding the award of an $80 million contract by the Chilean government to an Indian technology company, TATA Consultancy Services BPO Chile S.A. The contract would have given the company control of administrating Chile's entire public records database. "The next day the Judicial Minister annulled the public bid," González wrote in an article about CIPER in the magazine ReVista that came out this spring. "The following day he removed the staff officers of the Civil Registry, and three days later he gave CIPER's information to the Public Ministry to initiate the judicial investigation. For the first time, executives of a private company—the invisible partners of corruption—were implicated in an official investigation."
It was this investigation that launched CIPER's reputation as an influential watchdog of public policy. "That's when we started to become a resource for other media and for the public in general," Figueroa said.
Patricio Navia is a Chilean political scientist and sociologist who has been watching CIPER's evolution over the last five years. He has been a columnist for various publications in Chile including La Tercera and Que Pasa (also owned by the COPESA conglomerate), and now teaches at New York University. "CIPER is very important for what they do," he said recently. "But in some ways, they have more of a negative impact than a positive one, in that when they denounce something, the government is forced to shut down or change it." This is in contrast to the two main newspapers in Chile, El Mercurio and La Tercera, he said. "These papers have more of a constructive influence [on government policy], but that's because they're less critical. It's a tradeoff – the less critical you are, the more attention they will pay to you."
The Technology for Transparency Network, an online project by the international blogging website Global Voices, has praised CIPER's work, saying that the project "has played an important role in enforcing Chile's new public transparency legislation by making information requests of the government during the course of its investigative reporting efforts." TTN also notes that CIPER has educated other journalists on how they can use the new information policies.
CIPER was founded in 2007 by Mónica González, who was the editor of a short-lived startup newspaper Diario Siete, and John Dinges, a former US correspondent in Chile and professor at Columbia University's Graduate School of Journalism.
Since the 2008 investigation, CIPER has had no trouble attracting attention and awards. CIPER estimates website traffic of many thousands of readers each day (although verifiable Google analytics data were not provided), has a Facebook page with 11,000 friends and reports 33,777 Twitter followers. The report on TATA's contract with the Civil Registry won a 2008 Best of Chilean Journalism award. In 2010, González won the UNESCO/Guillermo Cano Award for Freedom of the Press.
CIPER was one of the few news organizations in Latin America chosen by Wikileaks as a channel to release their documents. The group has also published more than a dozen multimedia reports on subjects as diverse as gangs in Central America, WikiLeaks cables concerning Chile, and a comprehensive map showing the buildings in Santiago that were still in disrepair more than a year after the devastating 2010 earthquake that killed more than 500 people.
In addition to its journalism accolades, CIPER understands its readership to include some of Chile's most influential citizens, said Figueroa. "Our readers are policy makers, politicians, people who make decisions. But we always try to get them to focus on the other side, the poorest people, the people who have a lack of education. We try to put their reality before the eyes of the people who can make a difference."
Some CIPER reports are picked up by other Chilean media, and that has magnified its impact, according to Navia. "Mostly Chileans get their news from television," he explained. "The key here is whether you can get those reports to be covered by TV news… Normally the way this works is where there's a CIPER report that gets picked up by newspapers and then goes on to network news. That's how CIPER influences the public agenda."
Until CIPER's arrival on the scene, investigative journalism was almost entirely absent from Chile's media. The two major newspapers, La Tercera and El Mercurio, are not known for doing in-depth investigation. COPESA'a La Tercera originally had an arrangement with CIPER giving it first option to publish all CIPER material, according to documents provided to potential funders, but little was published and the newspaper rarely mentions CIPER.
Figueroa said CIPER's primary commitment is to promote transparency and freedom of information in Chilean public life. "The most important thing is that our work has a lot of impact on public policy," he said. "That's more important than the prizes or the awards we've received."
CIPER severed its ties to international funders in 2009 and is almost entirely financed by COPESA, although the site insists that this does not influence their editorial independence in any way. "We don't give them any money. We don't make money," Figueroa said. "We're expensive for them, maybe a waste of money," he added, laughing. "But they think that the excellence in our work made it worthwhile."
*****
Anna Merlan is a recent graduate of Columbia University's Graduate School of Journalism. In June 2011, she will join the Dallas Observer as a staff writer.
Digital Freedom and Control
Russia and Asia
Latin America
Middle East