This article is part of the Digital Freedom and Corol Project produced exclusively for the World Policy Journal by students from the Columbia University Graduate School of Journalism.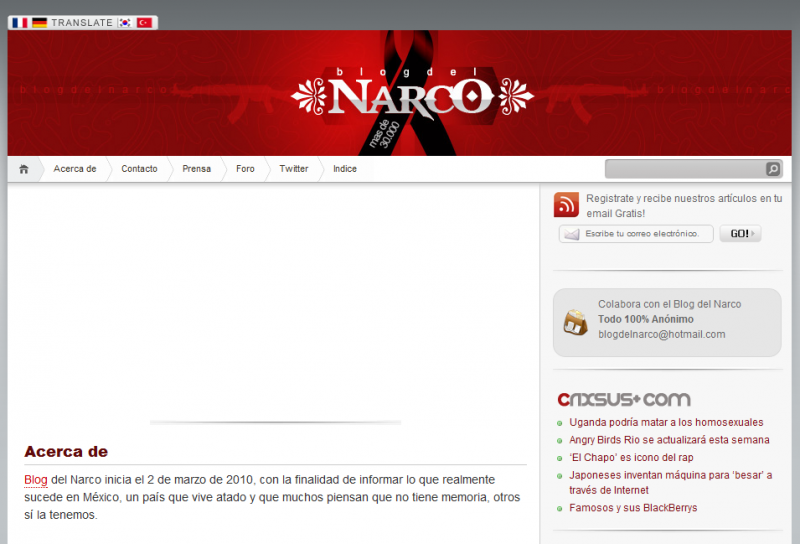 By Natalia Martinez
As Mexico has become one of the most dangerous places in the world for traditional journalists to practice their craft, blogs have become a major source of information, often of uncertain reliability, on Mexico's drug wars.
According to Mexico's National Human Rights Commission, 66 journalists have been murdered between 2005 and 2010 as victims of the country's drug wars, and many news organizations have been attacked with gunfire and even bombs in an attempt to silence the press.
As a result coverage of drug-related crime has decreased, especially after the signing of an agreement March 24 by dozens of Mexican news organizations,including the country's main television networks, to set guidelines for coverage. The 10-point pact seeks to improve protection for journalists, including the omission of bylines on some stories. Other points limit the publication of gruesome images and discourage reports that tend to glorify drug cartel leaders.
In their place, independent journalists and bloggers have stepped in to fill the coverage gap, attempting to report and photograph the drug wars in a way that is no longer reported in the established media.
Among them, there is one that has taken the leading role in documenting and reporting the news and events related to cartel violence in the most unfiltered, raw manner: Blog del Narco.
Blog del Narco was started in March 2010 "with the intention of informing about what really happens in Mexico," according to the About Us page on the site. It adds that "a key factor for the birth of Blog del Narco has been what many media organizations have been trying to hide: the terror that Mexican society faces, a reality that until recently was kept in the shadows."
That reality, according to Blog del Narco, is the depiction of the horror of the drug war in Mexico's streets: decapitated bodies, bullet-ridden vehicles surrounded by pools of blood, and other images of gory crime scenes. It is precisely the kind of coverage the media agreement was intended to discourage.
The gruesome content is not edited according to any apparent journalistic standards. There are detailed descriptions of murders, as well as photographs and even videos of victims as they are being executed.
Little attempt is evident of any vetting of sources, leaving open the possibility that drug criminals or those sympathetic to them may be submitting content. The site has an online submission form that allows anyone to submit any kind of content. That includes regular members of his online audience, as well as cartel members themselves and even law enforcement.
A message on the site states, however, that the blog is not "for or against any criminal organization, we simply inform what happens without alterations and of course, in a transparent way without trying to offend anyone."
Initially, the blog was the result of the sole effort of one anonymous author, who the Associated Press identified a few of months ago as a twenty-year-old student in northern Mexico majoring in computer security.
Since then, the site's founder, who said he started the site as a hobby, added a contributor, and who is identified as a friend and as "a specialist in the subject of journalism."
The site appears to have soared in popularity. In the month of March, Web analytic tools show the site received 289,316 monthly unique visitors, and 1,387,635 visits overall.
An example of the type of postings that make this blog so popular is the recent posting "La Línea interroga a integrante del Cártel de Sinaloa," (La Línea interrogates a member of the Sinaloa Cartel). The post shows a video of three men with masks pointing their rifles at a young, blindfolded man who is identified as a member of the Cartel of Sinaloa.
In the video, the man confesses to receiving money from another cartel member and also discloses the names of high-ranking Juárez government officials who he claims receive money from the cartel as well. The video, whose source is not disclosed, was just uploaded 7 days ago and it has already received 1,219 comments in its thread.
The blog's popularity is also evident on social networking sites. As of May 10, 2011, Blog del Narco or @infonarco, had 62,359 followers. Among its followers are Mexico's leading media organizations, CNN, the FBI and the Mexican Defense Department.
The site claims that its YouTube channel has been blocked on several occasions, causing them to create different accounts.
Blog del Narco is perhaps the most popular but not the only blog dedicated to reporting on drug crime. There is also Borderland Beat, Blog Narcoguerra, among others.
In addition, other journalists are using the Internet as an outlet for more traditional reporting that avoids the gruesome sensationalism of Blog del Narco. Judith Torrea, a Spanish journalist, writes the blog Juárez en la Sombra del Narcotráfico (Juárez under the Shadow of Drug Trafficking) from the border city Ciudad Juárez. Her reports focus on the crimes of drug cartels from the point of view of their victims, as well denouncing government repression and police corruption.
Writing only about 4 entries a month, Torrea tells the tragic stories of mothers who are still waiting for daughters who disappeared months ago. They also tell the tales of teenagers who have seen their best friends being killed at what originally seemed to be innocent weekend parties. In one story, for example, Torres writes that a 13-year-old girl witnessed the killing of her 16-year-old sister by the policía federal.
These stories recently earned a Best of Blogs Award in the press freedom category from Reporters Without Borders, a competition organized by the German radio network Deutsche Welle.
Torrea told the online magazine Sampsonia Way that her blog "came out of a need to tell victim's stories without censorship because in Juárez there is no freedom of speech."
Another journalist, Deborah Bonello, also uses the Internet to publish stories about crime and violence in the blog, mexicoreporter.com, based in Mexico City.
Bonello's blog is written solely in English, for an audience living in and outside of Mexico.
*****
Natalia Martinez is a multimedia journalist and a graduate of Columbia University Graduate School of Journalism.
Digital Freedom and Control
Russia and Asia
Latin America
Middle East